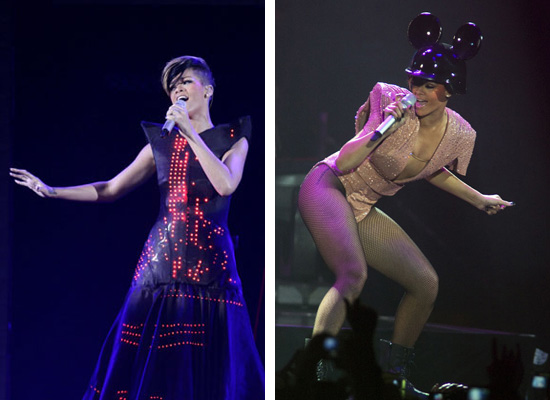 Pop entertainer Rihanna kicked off her world tour Friday night (Apr 16) in Antwerp, Belgium. The self-proclaimed "rockstar" also performed for the tour, which she is dubbing the "Last Girl On Earth Tour," at the Gelredome in Arnhem, Netherlands the following evening (Sat. Apr 17). According to reports, the set and her on-stage costumes were great (albeit they looked like they came straight from Lady Gaga's closet), but her performance? Not so much! Fans who attended the first show say they were very disappointed in Rihanna's stage presence:
Her vocals weren't as bad as I expected them to be, but she clearly omitted the difficult parts and even forgot some of the lyrics. I could even notice a backing track during some of the songs (Don't Stop The Music for example).
They say even the dancing sucked!
I couldn't almost believe it, but the choreography (if any) was really poor. There were only a couple of dancers, which didn't impress me. Rihanna barely danced herself as well…
Wow! And people are paying their hard-earned money for this? Ri better step her game up soon before word gets out and people stop buying tickets or demand refunds for the tickets that they've already wasted their money on. Peep the pics below and a few videos after the break…
"MAD HOUSE" INTRO + "RUSSIAN ROULETTE"
"HARD"
"ROCKSTAR 101"
"RUDE BOY"
"UMBRELLA"