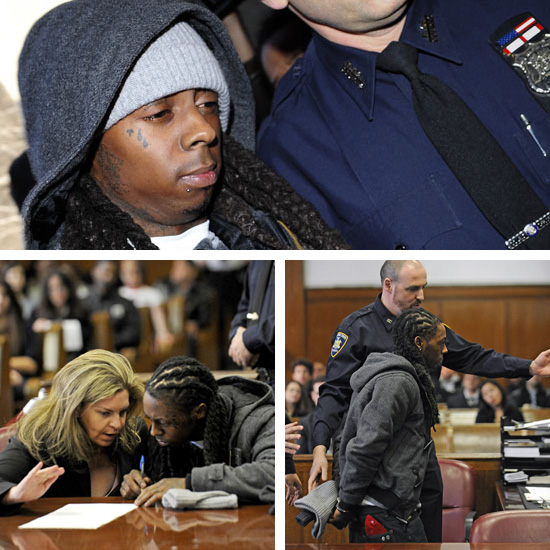 Pull out your "Free Wayne" or "Free Weezy" tees because after many a delay, rapper Lil Wayne is behind bars (for real this time). For the third time in just one month, Weezy made his way to a New York City courthouse for his hearing on his 1-year jail term for having a loaded gun on his tour bus.
AP says Wayne (real name: Dwayne Carter) gave a brief bow to fans/supporters as he was arrested and led out of the NYC courtroom in handcuffs to begin serving his year-long sentence Monday (Mar 8). He was arrested back in July 2007 after cops found a loaded .40-caliber semiautomatic gun on his bus. He pleaded guilty to the charges brought against him in October.
Reports say the 27-year-old rapper chose not to speak at his sentencing yesterday when he turned himself in. With good behavior, he'll only serve 8 months out of the year, and he will be held in protective custody (outside of the general pop.) at Rikers Island prison.
The Grammy winner — who has made upwards of $50 million a tour — was mobbed on his way into Manhattan Supreme Court by hundreds of reporters and cellphone-waving fans, and serenaded up the con crete steps by shouts of, "Weezy! We love you!" "Yo, keep your head up, Weezy!" one fan shouted from a back row of the courtroom as the cuffs went on. Lil Wayne — nickname "Weezy," real name Dwayne Carter, age 27 — will continue making music in jail, said his lawyer, Stacey Richman. "He's an unstoppable musician and creator," she said.
This date has been a longtime coming for Wayne. The first time he was scheduled to appear in court, his attorney got the judge to postpone it a few weeks so that he could have dental surgery before he went into the slammer. The second time he was scheduled to turn himself in, a fire broke out at the courthouse just hours before he was to arrive.
More pics of Lil Wayne turning himself in below and after the cut…
He said goodbye to fans on Twitter, in print interviews and in YouTube videos, only to see the surrender date come and go, each time necessitating renewed goodbyes. "Law is mind without reason . . . I'll return," he wrote on his Twitter page yesterday morning. But once in court yesterday, he said nothing.

Asked by Manhattan Supreme Court Justice Charles Solomon if he wanted to speak before sentencing, the rapper shook his head. "Nothing at all?" repeated the judge. The rapper shook his head again.

NY POST