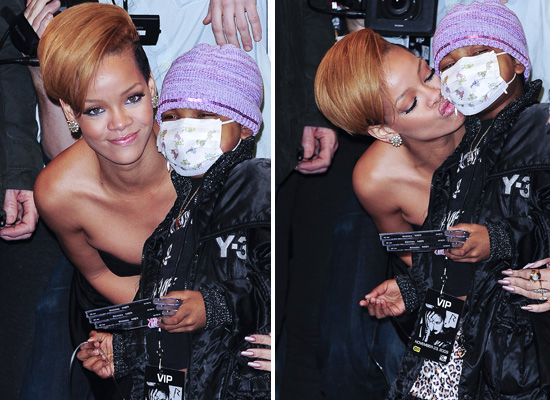 Over the weekend, Thea Amena, mother to 6-year-old Jasmina Amena who died in January following a year-long battle with leukemia, allegedly put out a message on Twitter questioning pop singer Rihanna's motives for being a part of the young child's life.
"It has been a month since Jasmina's passing. Still not even a card or text message from Rihanna. Did she use my child for a publicity stunt?"
After being re-tweeted a number of times and passed around through the media, the message was deleted and replaced with this Monday:
"Apparently there are some negative blogs out there. For the record, Rihanna has been nothing but really nice !!!"
Thea denied writing the original tweet herself, as stated in an e-mail she sent to People Magazine, but she said that she is indeed disappointed that Rihanna didn't personally reach out to her or her family when Jasmina passed away on January 27th.
"Friends have helped me with all kinds of stuff and many know the passwords to my personal e-mail, the Caringbridge site and also Twitter," Anema wrote. "Although I did not Tweet this particular one, I do wish that Rihanna had responded to me on Jasmina's passing. It would have meant the world to me." Still, Anema says she is grateful for everything Rihanna did for Jasmina.
"Jasmina adored her," she writes. "Rihanna was so kind to come and visit her. I just felt hurt not hearing anything from her. Or of any other celebrities for that matter. The only ones who reached out to me personally during this time of grief were the Obamas."

Friends of the singer have come to her defense. One source close to Rihanna tells PEOPLE: "She really loved this little girl. It was hard for her to deal with a child passing away, especially a little girl she had come to care for so much."

PEOPLE MAGAZINE

Shortly after Jasmina passed away, a statement from Rihanna was posted on her official website:
"I am incredibly heartbroken that Jasmina has passed away. She was such a brave and special child. She showed more strength and spirit than many adults I have met. I feel blessed that I was able to have her in my life, and know that through her example she has saved many lives. She was truly an angel on earth."