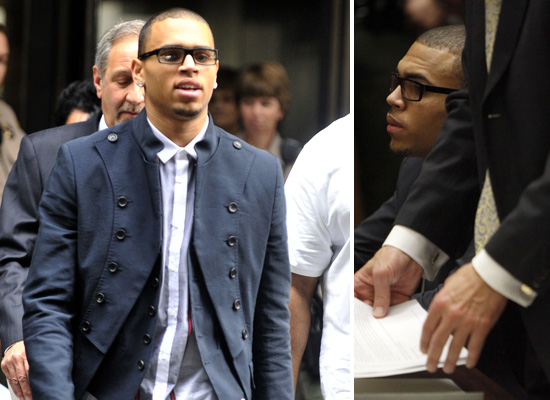 R&B singer Chris Brown attended a probation hearing yesterday afternoon (Thurs. Feb 18) at Los Angeles Criminal Courts to obtain a report on his progress regarding his community service and domestic violence classes. According to TMZ, Chris has proved that he has completed 32 days of hard labor in his hometown Virginia and has attended 17 out of the required 52 classes of domestic violence tolerance without absence. Judge Patricia Schnegg said:
"Looks like you're doing really, really well." she added, "You are participating and doing a very good job."
She also has given him permission to travel out of the country from May 18th to June 27th to do some shows. His next hearing however, is May 11th.
Good job Chris! Looks like you're going through the motions to getting yourself and career back on track. Keep it up. More pics of Chris heading to court in Los Angeles below…
PHOTOS: GETTY IMAGES / WIRE IMAGE