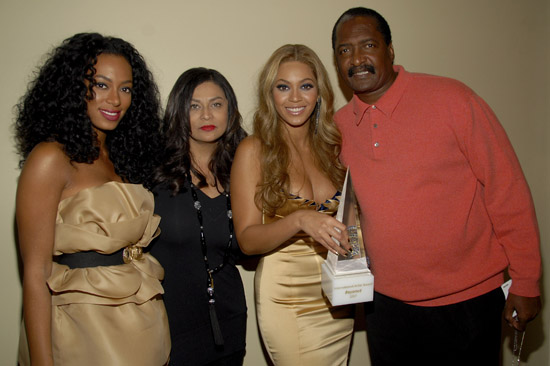 Well what do ya know. Mathew Knowles (Beyonce and Solange's daddy) really did father an illegitimate child while he was married to Tina, which prompted her to file for divorce last fall.
Sources say that Alexsandra Wright had a paternity test done recently after giving birth to her daughter, and Mathew Knowles is indeed the father. No word on how Bey Bey, Tina or Solange are taking the news of their newest family member, but we're sure they aren't too happy. It is said that Tina's recent file for divorce was due to Mathew's cheating.

SOURCE
So ol' Matt was creepin' for real, huh? Do you think Beyonce and Solange are going to embrace their new baby sister brother and welcome her him into the family?
**UPDATE: New reports say that the newborn is a little boy and not a little girl. And Matthew Knowles' reps continue to deny the allegations … at least until a DNA test is done.
Wright — who filed a paternity suit against Mathew Knowles back in October — gave birth last Thursday to a baby boy. The name … Nixon. Priceless. Wright — who once appeared on "Scrubs" — claims she had a relationship with Knowles that lasted 18 months. And, sources say, Wright claims she and Mathew picked out the baby name together. We're guessing they were watching "Frost/Nixon."

Sources tell us Wright has a court date next week in an attempt to dislodge some support money from Mathew. We're told Alexsandra hasn't gotten a penny from Mathew for the baby. Mathew Knowles' rep tells TMZ, "We are not aware of the birth of a child. Mr. Knowles has never had a DNA test. These rumors are untrue."
Published