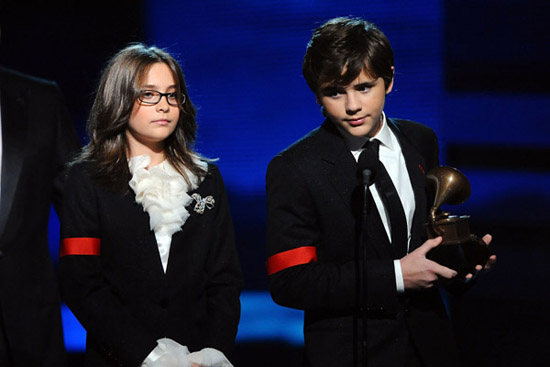 After giving a hug to family friend Lionel Richie, Michael Jackson's two eldest children Prince Michael (12) and Paris Katherine (11) paid tribute to their late father at Sunday night's (Jan 31) Grammy Awards by accepting his Lifetime Achievement Award on his behalf.
Poised and very articulate, Prince spoke first and thanked God, their grandparents and the King of Pop's fans for all of their support over the past seven months.
"We are proud to be here to accept this award on behalf of our father, Michael Jackson," said Prince Michael. "First of all, we would like to thank God for watching over us these past seven months and our grandma and grandpa for their love and support. We'd also like to thank the fans. Our father loved you so much because you were always there for him. Our father was always concerned about the planet and humanity. He has helped through many charities and donated to all of them. Through all his songs, his message was simple: Love. We will continue to spread his message and help the world. Thank you."
A noticeably nervous Paris Jackson, who according to a source didn't even want to speak at all, also spoke on behalf of her world famous father.
"Daddy was supposed to be here. Daddy was going to perform this year, but he couldn't perform last year. Thank you. We love you, Daddy."
But where on earth was MJ's youngest child, Blanket?
Sources close to Michael Jackson's family reveal details behind the King of Pop's children's acceptance speech of their late father's Grammy award on Sunday night. The source says Blanket became overwhelmed moments before his brother Prince Michael and sister Paris took the stage.  Paris did not want to speak to the audience but her grandmother Katherine Jackson is said to have prompted her to say something. Afterward, the children attended an awards dinner. Onlookers say Prince didn't let the Grammy award out of his sight.

SOURCE
Check out a video of Michael Jackson's children accepting their dad's umpteenth Grammy Award below…