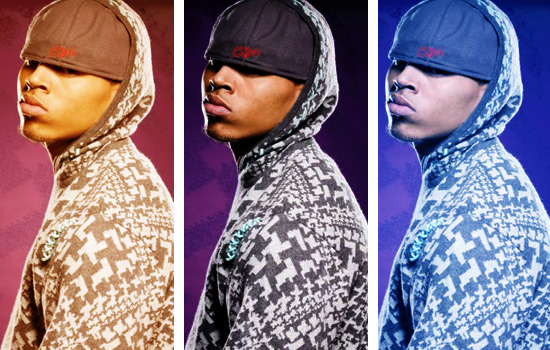 So this is it. Chris Brown's official first comeback single. "I Can Transform Ya" features rapper Lil' Wayne and producer Swizz Beatz. The track is the debut single from his upcoming third album Graffiti, set to drop sometime early next year. It's interesting to see how well this single and the album will do considering all of the negative press Chris has been getting ever since that big fight with Rihanna back in February 2009.
But so far, radio stations all over are reporting that the song is getting a great reception and a lot of positive feedback, despite Brown's troubled past.
Greenville, South Carolina's Hot 98.1 began playing the song as soon as it was available, and operations manager/ program director Steve Crumbley said the response so far has been overwhelmingly positive. "The audience loves it," he said. "The response has been phenomenal, plus you have Lil Wayne on it, so you can't miss." According to Crumbley, the recent unsavory headlines surrounding Brown don't appear to have slowed his career. "You mean because of the Rihanna thing? I didn't think not playing a man's record had anything to do with what he did," Crumbley said when asked whether he'd hesitated to spin the tune. "I'm not making light of abuse. That is terribly wrong and he had to deal with that, but if the man's got a good song, he's got a good song." Crumbley said he's had not a single negative call about the song so far.
Though Brown lost some lucrative endorsements and suffered some backlash at urban and pop radio following the revelation of the assault, there doesn't appear to be a lingering effect on the radio so far. Cleveland's WENZ (107.9 FM) music director Robin Simone said she also started playing the track as soon as it was available on Tuesday, and the reaction has been overwhelmingly positive. "People are loving the single, and they're excited about the album," she said. "With all that was happening to halt his career, a lot of fans called in and said they knew Chris wasn't going anywhere."

Reactions to "I Can Transform Ya" were decidedly mixed on MTVNews.com. "Yessssssss, this is what I've been waiting for," Tom-Iz commented. "Headbanger music in the urban scene is on the rise!!!" BlACkOUt lamented, "He can transform you from the world's hottest women to the world's hottest women with a black eye. Whatever!"

Quite a few commenters said they loved the song and predicted that Brown is back, though Unome-djd cautioned, "He needs to stick to his community service, 'cause this song is WACK," referring to the six months of community labor Brown is completing as part of his guilty plea to felony assault in the case. As was the case during the period after the incident, Brown's audience is still clearly split on whether they're ready to embrace him or feel that he needs to take some time out of the spotlight. "Luv the song & luv u Chris," Sickballa012 wrote. "Haters keep it up. U R doing a great job." But Refresh snapped, "Yeah, Chris Brown can transform your face if you're a woman."

On Brown's MechanicalDummy.com, the comments are, as you might expect, almost all positive. Nearly 100 fans gushed about the tune. A few said it would take some time to get used to the harder sound, and a handful complained that the song was too drastic a change for them, including a couple who called it "torture" to listen to.

"I don't think this is a good look for Chris," Lizzy wrote. "Not really feelin' it. It's too not you. This is like the stuff on the radio, and all that stuff is garbage."

SOURCE