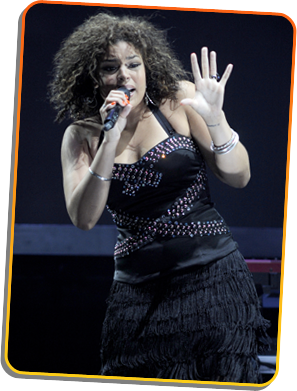 According to a new press release posted to Britney Spears' website, Jordin Sparks is in and Ciara is out! The youngest American Idol winner in history has officially been tapped to open for Britney Spears' "Circus" tour, along with singer Kristinia DeBarge and a couple of other up and coming pop acts.
Platinum-selling 19 Recordings/Jive Records artist Jordin Sparks will join "The Circus Starring Britney Spears" as special guest on the second North American leg of the tour. Sparks will perform on the U.S. portion of the trek including dates in New York City, Los Angeles, Boston, Philadelphia, Miami, Detroit, Chicago and more before concluding on September 26 & 27 at Mandalay Bay Events Center in Las Vegas, NV. Previously announced opening act Kristinia DeBarge will join the tour for all dates; while up-and-coming acts Girlicious and One Call will appear in select cities.
No word on exactly why Ciara was axed but Jordin says that she's happy to be a part of the big tour.
"Britney's show is incredible and for me to be a part of it is a great opportunity," said Sparks.
Peep the official dates below!
August 20                   Hamilton, ON             Copps Coliseum + @ ^
August 21                   Ottawa, ON                Scotiabank Place + @ ^
August 24                   New York, NY           Madison Square Garden * + ^
August 25                   New York, NY           Madison Square Garden * + ^
August 26                  New York, NY          Madison Square Garden * + ^
August 29                   Boston, MA                TD Garden * + ^
August 30                   Philadelphia, PA         Wachovia Center + ^
September 1               Orlando, FL                 Amway Arena * +
September 2               Miami, FL                    American Airlines Arena * +
September 4               Atlanta, GA                 Philips Arena * +
September 5               Greensboro, NC           Greensboro Coliseum * +
September 8               Detroit, MI                   The Palace of Auburn Hills * +
September 9               Chicago, IL                  Allstate Arena * +
September 11             Des Moines, IA            Wells Fargo Arena * +
September 12             Grand Forks, ND          Alerus Center * +
September 15             Tulsa, OK                     BOK Center * +
September 16             Houston, TX                Toyota Center * +
September 18             Dallas, TX                    American Airlines Center * +
September 19             Bossier City, LA          CenturyTel Center +
September 21             El Paso, TX                  Don Haskins Center * +
September 23             Los Angeles, CA         STAPLES Center * +
September 24             San Diego, CA            San Diego Sports Arena * +
September 26             Las Vegas, NV            Mandalay Bay Events Center * +
September 27             Las Vegas, NV           Mandalay Bay Events Center * +
*with special guest Jordin Sparks
+ with special guest Kristinia DeBarge
@ with special guest Girlicious
^ with special guest One Call