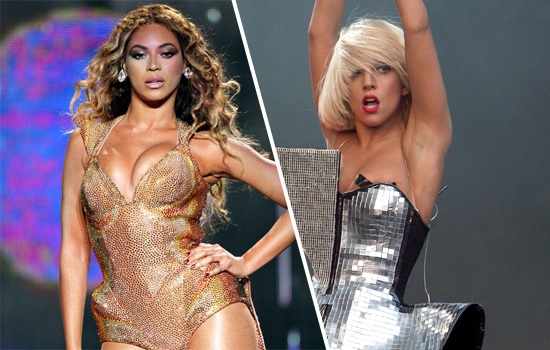 MTV announced the nominations for their 26th annual Video Music Awards Tuesday (Aug 4) and Beyonce and Lady Gaga both scored nine nods a piece! Beyonce, nominated for Video of the Year, Best Female Video, Best Choreography and more, says she's excited to share the spotlight with Lady Gaga.
"I'm excited and honored to be tied for most nominated for the VMAs," Beyonce said. "I've been blessed this year to have 'Single Ladies' become a video people really connected with and responded to. I've spent so much time watching all the great versions people created all around the world. It's beautiful to feel you touch people and bring a song to life with a video."
Lady Gaga, who has nominations in the categories of Best New Artist, Best Pop Video, Best Editing and more, also expressed her excitement … in her own way, of course.
"After years of hustle in New York City, where we made our art videos in bars, myself and the Haus of Gaga are honored to receive nine nominations for the 2009 VMAs," she said. "We believe in the immensity and the promise of 'showbiz' and will continue to give it mouth-to-mouth, till its vomiting return. All you need is a camcorder, a flashlight and one truly great idea. Thank you, MTV, for being our video flagship, and for supporting this bunch of inspired kids, who love to get wasted and make art together."
The 2009 MTV VMAs are set to air live from New York City September 13th at 9 p.m. Continue reading for the full list of nominees!
Video of the Year
» Beyoncé, "Single Ladies (Put a Ring on It)"
» Lady Gaga, "Poker Face"
» Eminem, "We Made You"
» Kanye West, "Love Lockdown"
» Britney Spears, "Womanizer"
Best New Artist
» Lady Gaga, "Poker Face"
» Drake, "Best I Ever Had"
» 3OH!3, "Don't Trust Me"
» Kid Cudi, "Day 'N' Nite"
» Asher Roth, "I Love College"
Best Male Video
» Eminem, "We Made You"
» Ne-Yo, "Miss Independent"
» Kanye West, "Love Lockdown"
» T.I. (featuring Rihanna), "Live Your Life"
» Jay-Z, "D.O.A."
Best Female Video
» Lady Gaga, "Poker Face"
» Beyoncé, "Single Ladies (Put a Ring on It)"
» Katy Perry, "Hot N Cold"
» Kelly Clarkson, "My Life Would Suck Without You"
» Taylor Swift, "You Belong With Me"
» Pink, "So What"
Best Hip-Hop Video
» Eminem, "We Made You"
» Flo Rida, "Right Round"
» Kanye West, "Love Lockdown"
» Asher Roth, "I Love College"
» Jay-Z, "D.O.A."
Best Pop Video
» Britney Spears, "Womanizer"
» Beyoncé, "Single Ladies (Put a Ring on It)"
» Lady Gaga, "Poker Face"
» Wisin y Yandel, "Abusadora"
» Cobra Starship (featuring Leighton Meester), "Good Girls Go Bad"
Best Rock Video
» Coldplay, "Viva la Vida"
» Paramore, "Decode"
» Kings of Leon, "Use Somebody"
» Green Day, "21 Guns"
» Fall Out Boy, "I Don't Care"
Breakthrough Video
» Yeah Yeah Yeahs, "Heads Will Roll"
» Matt and Kim, "Lessons Learned"
» Passion Pit, "The Reeling"
» Bat for Lashes, "Daniel"
» Anjulie, "Boom"
» Cold War Kids, "I've Seen Enough"
» Death Cab for Cutie, "Grapevine Fires"
» Gnarls Barkley, "Who's Gonna Save My Soul"
» Chairlift, "Evident Utensil"
» Major Lazer, "Hold the Line"
Best Video (That Should Have Won A Moonman)
» David Lee Roth, "California Girls"
» Foo Fighters, "Everlong"
» U2, "Streets Have No Name"
» George Michael, "Freedom"
» OK Go, "Here It Goes Again"
» Tom Petty, "Into the Great Wide Open"
» Dr. Dre (featuring Snoop Dogg), "Nuthin' But a 'G' Thang"
» Beastie Boys, "Sabotage"
» Björk, "Human Behavior"
» Radiohead, "Karma Police"
Best Choreography
» Beyoncé, "Single Ladies (Put a Ring on It)"
» Kristinia DeBarge, "Goodbye"
» Britney Spears, "Circus"
» Ciara (featuring Justin Timberlake), "Love Sex Magic"
» A. R. Rahman and Pussycat Dolls (featuring Nicole Scherzinger), "Jai Ho!"
Best Direction
» Beyoncé, "Single Ladies (Put a Ring on It)"
» Lady Gaga, "Paparazzi"
» Britney Spears, "Circus"
» Cobra Starship (featuring Leighton Meester), "Good Girls Go Bad"
» Green Day, "21 Guns"
Best Editing
» Beyoncé, "Single Ladies (Put a Ring on It)"
» Lady Gaga, "Paparazzi"
» Britney Spears, "Circus"
» Miley Cyrus, "7 Things"
» Coldplay, "Viva la Vida"
Best Special Effects
» Gnarls Barkley, "Who's Gonna Save My Soul"
» Lady Gaga, "Paparazzi"
» Beyoncé, "Single Ladies (Put a Ring on It)"
» Eminem, "We Made You"
» Kanye West (featuring Mr. Hudson), "Paranoid"
Best Cinematography
» Beyoncé, "Single Ladies (Put a Ring on It)"
» Lady Gaga, "Paparazzi"
» Britney Spears, "Circus"
» Green Day, "21 Guns"
» Coldplay, "Viva la Vida"
Art Direction
» Beyonce "Single Ladies (Put A Ring On It)"<
» Lady Gaga, "Paparazzi"
» Britney Spears, "Circus"
» Gnarls Barkley, "Who's Gonna Save My Soul"
» Coldplay, "Viva la Vida"
Published