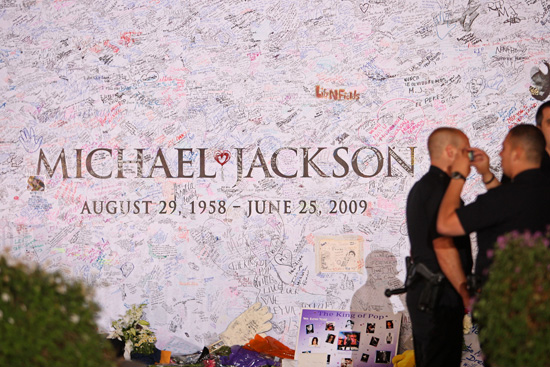 It has been confirmed that Mariah Carey, Stevie Wonder, Usher and others are set to partake in Michael Jackson's memorial service in Los Angeles at the Staples Center Tuesday (Jul 7). Singers Jennifer Hudson, Lionel Richie and Smokey Robinson have also been confirmed to appear at the event, which will be nationally televised live and commercial free on ABC, CNN, HLN, MSNBC, and E!
It is said that Katie Couric will represent CBS by covering the event from the Staples Center, but the network hasn't released how it intends to broadcast the memorial. Meanwhile, NBC has confirmed that they will not be airing the memorial live, but they will, however, air a one-hour highlight special in prime-time.
Fox News hasn't announced its plans either. But if you have access to a computer and a pretty good internet connection, watching the memorial shouldn't be an issue what-so-ever.
An official press release added that the lineup was preliminary and subject to change, opening the door for rumored participants like Justin Timberlake to be involved. The Jackson family wouldn't shed any light on who will be performing what songs at the memorial, but as Rock Daily reported earlier, TMZ claims Mariah Carey will perform the Jackson 5's "I'll Be There," a hit that Carey covered for her MTV Unplugged performance in 1992. The song was co-written by Berry Gordy, who will also appear onstage at the memorial.

Usher, Wonder, Carey and Mayer were among the dozens of artists who mourned the passing of Michael Jackson in the hours after the King of Pop's death. "A major strand of our cultural DNA has left us," Mayer said on his Twitter. "RIP MJ. I think we'll mourn his loss as well as the loss of ourselves as children listening to Thriller on the record player. I truly hope he is memorialized as the '83 moonwalking, MTV owning, mesmerizing, unstoppable, invincible Michael Jackson."

One person who will not be attending the memorial is Jackson's ex-wife Debbie Rowe, who said in a statement to TMZ through her lawyer, "The onslaught of media attention has made it clear her attendance would be an unnecessary distraction to an event that should focus exclusively on Michael's legacy. Debbie will continue to celebrate Michael's memory privately."

Here's the entire Michael Jackson memorial roster, as it stands now:

Ron Boyd (family friend); Kobe Bryant; Mariah Carey; Andrae Crouch Choir; Berry Gordy; Jennifer Hudson; Shaheen Jafargholi (finalist on Britain's Got Talent); Magic Johnson; Martin Luther King III; Bernice A. King; John Mayer; Lionel Richie; Smokey Robinson; Rev. Al Sharpton; Brooke Shields; Pastor Lucious Smith (family friend); Usher; and Stevie Wonder.

SOURCE: RS