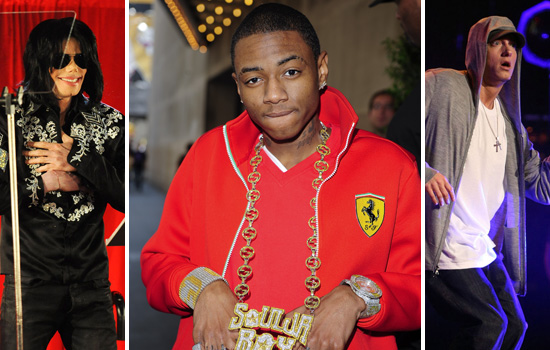 In a new interview, Soulja Boy said that he doesn't really have any competition in the game on account of him having his "own lane." He also cited Michael Jackson as the inspiration for his stage presence.
"I don't really look at nobody as competition," Soulja said. "I feel like I got my own lane, and I don't have to worry about nobody. Anybody I feel is competition, I gotta knock them out the box. If there's anybody that ever crossed my mind — [where] I say, 'Man, he might be a problem for me,' then I'mma have to get rid of him.
"But as far as getting my inspiration for stage performance, it has always been Michael Jackson. I remember I watched the DVD … Michael Jackson came and stood onstage for 10 minutes. They was screaming the whole 10 minutes. I actually imitated that a couple of times in my show."
He also said that he wouldn't mind opening for Eminem if he decides to tour with his recently released Relapse album, adding that he's respected him from the jump.
"I like his new music," he said. "It's different from what's out. I think it's good. It's good for music. I'd open up for Eminem — lot of cheese right there. … Back in the days, I was tuned in to it," Soulja explained. "I wasn't too heavy into it, but he's got some classic stuff. He used to come on TV, I used to be like, 'That white boy go hard. Real hard.'"
SOURCE: MTV