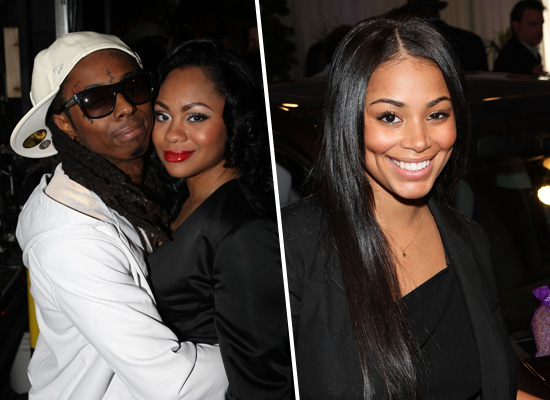 So it looks like Lil Wayne has been running around town raw and getting industry chicks pregnant … and apparently he's caught himself in what some would call a "love triangle." According to several (confirmed) recent reports, actress Lauren London AND singer Nivea, who recently went through a divorce from singer/songwriter The Dream, whom she already has 3 kids with, are expecting babies from Weezy! Talk about drama!
But anyway, both ladies are having boys and we hear both of them are about 5/6 months along. And you've probably already guessed it but Ms. London is in no way happy about this news. Peep what our boy FreddyO said.
I was told Lauren London was at a loss for words today after finding out that her baby daddy was expecting another child. Lauren who is almost 6 months pregnant didn't know anything about Nivea's pregnancy, and found out via Mediatakeout.com (go figure) and was outraged.
Like every other star these days, she took to her Twitter page to express how she felt. But after speaking to a family friend left the topic alone. She then decided to spend the day with her family and close friends. Lauren told her friends that she is worried if her career is over as a result of these issues. As we all know Lauren is on the pinnacle of Black Hollywood as the face of Sean John and reoccurring role in the remake of Beverly Hills 90210 on the CW. A reliable source stated that Wayne doesn't want anything to do with Lauren.

Today Nivea called Ryan Cameron's show and confirmed that she is indeed pregnant with a boy. In fact, both of them are pregnant with Wayne's sons. This is a really bad situation, considering that she is knocked up and the baby daddy is in love with someone else. Lauren London can have any man in the world but she chooses to get with an engaged man… Is the recession effecting men too!!!! This makes Wayne about 4 babies up and 4 baby mamas down. I guess it is true about Wayne … He can f*&^k any girl in this world.

SOURCE