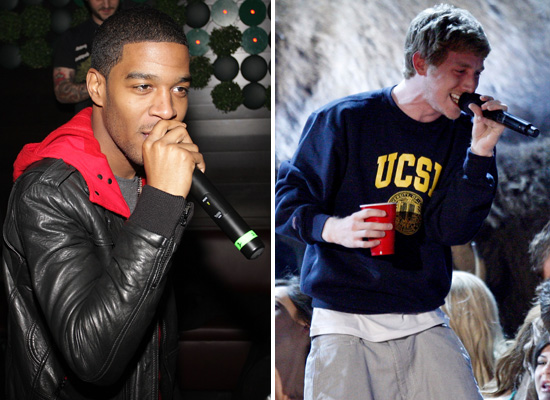 Two of the newest rappers to jump onto the hip-hop scene, Kid Cudi and Asher Roth, are set to kick off their first headlining tour together this summer. Dubbed as "The Great Hangover Tour," fans from 19 cities around the U.S. will be able to see Roth and Cudi perform their songs from their respective albums. The 19-city tour opens at the House of Blues in Boston on July 14th and wraps up August 5th in Washington D.C. at the 9:30 club with dates in Atlanta, Vegas, Denver, Cleveland, NYC and more.
Roth dropped his debut album Asleep in the Bread Aisle this past April and it debuted at No. 5 on the Billboard 200 album chart the first week of release. To date, it has sold over 120,000 copies in the U.S.
Kid Cudi's debut album The Man on the Moon with the Guardians isn't set to be released until late August but people have been riding with this dude since "Day N Nite," which peaked at No. 3 on the Hot 100. And according to recent Nielson SoundScan stats, the track itself has so far seen over 540,000 digital downloads!
Peep the tour dates below:
July 14: Boston (House of Blues)
July 15: New York (Nokia Theater)
July 16: Mariaville, N.Y. (Indian Lookout)
July 17: Cleveland (House of Blues)
July 18: Detroit (Royal Oak)
July 20: Kansas City, Mo. (Voodoo Lounge)
July 21: Denver (Ogden)
July 22: Salt Lake City (Harry O's)
July 23: Las Vegas (House of Blues)
July 24: San Francisco (Regency Theatre)
July 26: Los Angeles (House of Blues)
July 27: Phoenix (Marquee)
July 29: Dallas (House of Blues)
July 30 Austin, Texas (Stubbs)
July 31 Houston (House of Blues)
August 2 Atlanta (Tabernacle)
August 3: Norfolk, Va. (Norva)
August 4: Baltimore (Rams Head)
August 5: Washington, D.C. (9:30 Club)