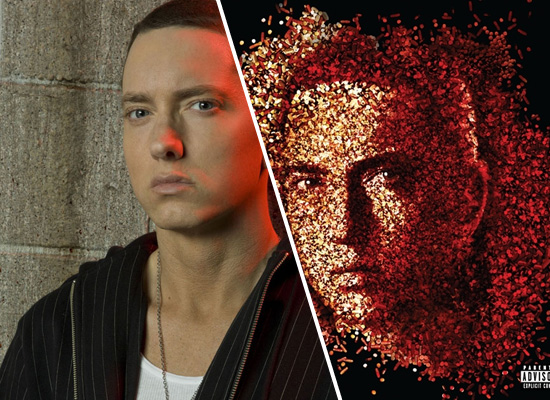 Rapper Eminem can breathe easy knowing that the hip-hop industry in general has welcomed him back to the scene with open arms. His latest album, Relapse, currently holds the spot as the number one album in the country, with 608,000 units moved in its first week, also setting a record as the biggest sales week of the year for any album.
This also marks Em's fifth straight number one debut and fifth overall number one out of six total albums. His debut album, Slim Shady LP, bowed and peaked at number two 10 years ago in 1999.
And while we're shooting off numbers here, we should add that collectively, over the span of his 10-year career, between his six albums he has sold over 34 million units in the United States alone, making him the biggest selling hip-hop act in the SoundScan era (1991 – present).
EMINEM EXPLAINS HIS "DISS" TO MARIAH CAREY & NICK CANNON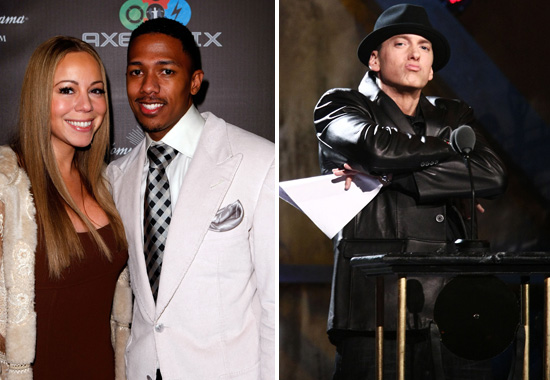 In other Eminem news, apparently the Detroit born/raised rapper wants Nick Cannon to know that he didn't mean anything bad by what he said about Mariah Carey in his song, "Bagpipes from Baghdad." In speaking with radio personality Tim Westwood (Video), Eminem explained the message behind the song agreeing that his words may have gone a bit too far:
"As a kid [I had a crush on Mariah], definitely," Em revealed. "With the song 'Bagpipes From Baghdad,' there's a line on there, I mean, I kinda spazed out on that record but I guess I spazed out on every record. There's a line on there that was a little harsh, you know, it's a harsh line, it was pretty intense on the swag level but you know man, the way I look at it, I said it, I had no idea he was going to take it like he took it. I had no idea Nick Cannon was gonna start wildin' out on me. No pun intended. I heard about some of the things he was saying, I didn't read his blog or anything. It is what it is, he's supposed to defend his wife. I expected him to do that. But at the end of the day, it's a line I said, I meant to say I wish them the best. That's what I meant to say…I didn't plan on taking it [to battling], hopefully it doesn't, but you know, it is what it is."

SOURCE