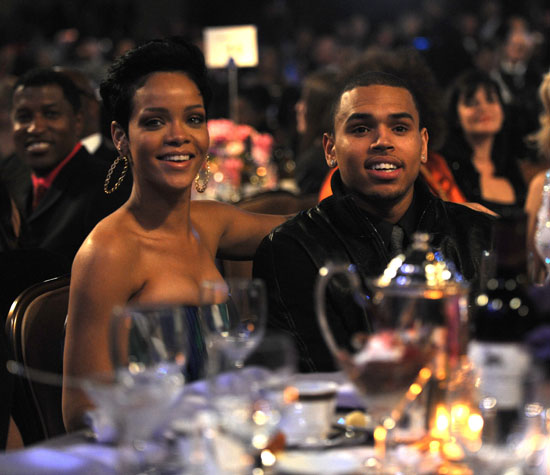 The woman involved in the Chris Brown assault incident has been confirmed as long-time girlfriend Rihanna! The two apparently got into a fight early Sunday morning following a pre-Grammy party, which resulted in Rihanna getting struck by Chris Brown.
"She got out of the car to walk home. He got out to stop her," said a source. "Things got physical. He hit her, possibly more than once. She had multiple bruises."

Police said the fight took place about 12:30 a.m. Sunday in the affluent Hancock Park neighborhood. "Brown and the woman were inside of a vehicle," said LAPD spokeswoman April Harding. "According to the victim they became involved in an argument. … The argument escalated into an altercation." By the time cops responded to the scene following a 911 call, Brown was gone. Brown and Rihanna were seen Saturday night at a pre-Grammy gala hosted by music mogul Clive Davis in Beverly Hills. The two posed for pictures and were spotted kissing before they hopped into a waiting silver Lamborghini.
"They were arguing. Apparently, Rihanna accused him of checking out other women at Clive Davis' party," said the industry insider. "It seems she's taking the steps you'd need to take if you were going to press charges," added the source. "But she could wake up tomorrow morning and decide she still loves him." The pop world's power couple have been dating for more than a year, and rumors have swirled that they were engaged. Yet there were rumblings in recent days about troubles, and sources described the Barbados-born beauty as a clingy girlfriend who can't bear to have Brown out of her sights.

SOURCE
Damn Chris, are we beating on females now? SMH…
Published