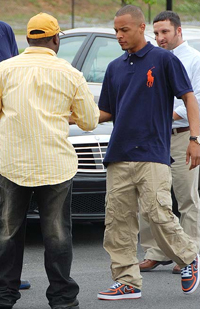 PHOTO: SANDRAROSE.COM
Atlanta rapper T.I. has been cut loose as the spokesperson for General Motors. This time last year, you could see T.I. in several GM commercials, mostly for Chevrolet. But in the wake of his conviction on federal gun charges, the auto company has decided to drop T.I. from its roster of celebrity representatives. T.I., who recently spoke with the Atlanta Journal Constitution, candidly stated that GM isn't his only loss, when it comes to his money.
"GM had to back up off of me," he told the Atlanta Journal-Constitution when asked about the deal. "There are films that I missed out on. Not speaking of, of course, shows. Tours. Tons of business. I've probably lost about $10 to $12 million dollars."
In his first sit-down interview since his arrest late last year, T.I. tells AJC's Sonia Murray that his patience has grown since being on house arrest for the past several months.
"If I can sit at home all day and wait on people to bring me what I need… wait on getting permission to be able to do this and do that, it's not as serious as I used to make it sometimes. Sometimes it was like, 'If I don't get this right now I'm just going to lose it.' When you're going 350 miles per hour, it tends to be that way. But when you are stopped – halted, not slowed down, but halted – you figure, 'Well I could have just slowed down. I didn't have to be stopped.' I thought it was bad just to slow down. Now I see in me being stopped, I could have done this, been this, myself, instead of being forced to do it."