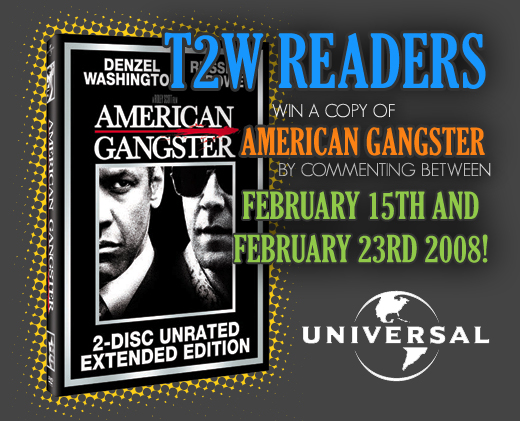 American Gangster, the grippingly intense crime-thriller acclaimed by critics and audiences, shoots its way onto DVD on Tuesday, February 19th, and support of its release, we are giving away two FREE copies of the 2-disc special edition extended film version to our loyal readers! All you have to do is leave a comment with a valid e-mail address anytime between now and Saturday, February 23rd 2008. Any comment posted after 12 AM EST 2/23/08 will not be eligible for the prize. The two lucky winners will be notified between Saturday, February 23rd 2008 and Monday, February 25th 2008.
For more information regarding the 2-disc special edition extended film version of the movie, and to check out a widget that includes three Exclusive Clips from the Bonus Features and a Clip from Anthony Hamilton's music video, "Do You Feel Me," click below!
OVERVIEW »
Inspired by a true story, American Gangster, the grippingly intense crime-thriller acclaimed by critics and audiences as one of the best films of 2007, will be available in two versions on the exclusive American Gangster 2-Disc Unrated Extended Edition DVD that includes both an unrated, extended movie with over 18 additional minutes and an alternate ending PLUS the original theatrical film. Academy Award® winners Denzel Washington and Russell Crowe portray one Harlem's most notorious crime bosses and the outcast cop who pursues him, respectively, ultimately leading to a climactic confrontation that alters the destiny of an entire generation in New York City. Directed by Ridley Scott and produced by Brian Grazer and Scott, American Gangster boasts an all-star cast including Josh Brolin, Ruby Dee, Cuba Gooding, Jr., Chiwetel Ejiofor, Armand Assante, Carla Gugino, and popular rap artists Common, RZA and Tip "T.I." Harris.
In addition, the American Gangster 3-Disc Collector's Edition, available for a limited time only, includes over five hours of bonus features, a 32-page collectible book and a downloadable digital copy of the unrated, extended film. Also available on February 19 is Gangsters: The Ultimate Film Collection, a nine-disc set containing four of Hollywood's most iconic gangster films including American Gangster, Scarface, Casino and Carlito's Way.
CONTENT BREAKDOWN / BONUS FEATURES »
DISC 1: Unrated Extended Version – 18 additional minutes of never-before-seen footage and an alternate ending, and original theatrical version including commentary with Director Ridley Scott and Writer Steven Zaillian.
DISC 2: Deleted scenes, including an alternate opening.
FALLEN EMPIRE: MAKING AMERICAN GANGSTER
Tru Blu: The Real Story: An in-depth look at the true story that inspired the movie and the long road to developing the film. Featuring interviews with the former real-life Harlem crime boss Frank Lucas and now retired detective Richie Roberts
Killer Threads: A look at how the world of the 1970's was brought back to life
Crime War: Follow production from the streets of NY to the jungles of Thailand
Rhythm of the Streets: Look into the film's music, featuring tracks such as "Do You Feel Me" performed by Anthony Hamilton
Into the Arena: Ali vs. Frazier: Setting up the infamous Ali-Frazier fight
CASE FILES
Setting Up the Takedown: Be on the set as Ridley Scott directs the climactic drug bust and watch this master director at work
Script Meeting: A look into the production office where director Ridley Scott, writer Steven Zaillian, and detective Richie Roberts discuss the script and break down of the scenes
Drug Test: Ridley Scott receives information on the preparation of heroin from a New York detective
Published