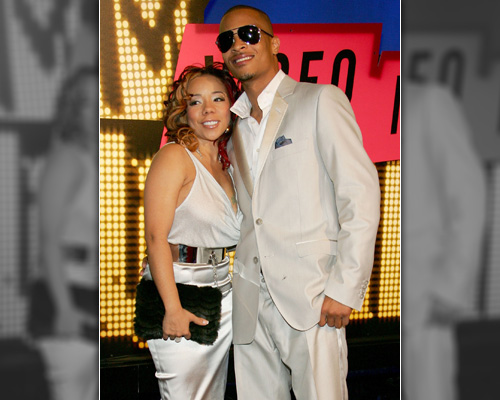 T.I. & TINY AT THE 2007 VIDEO MUSIC AWARDS // PHOTO BY ETHAN MILLER FOR GETTY IMAGES
First up, I just caught wind on some more information regarding T.I. Although he was denied bail in today's hearing, U.S. Magistrate Alan Baverman scheduled a hearing for this Friday. At that time, he will decide whether there was probable cause to arrest the rapper and if T.I. will qualify for bond before a trial.
T.I.'s longtime girlfriend, Tameka "Tiny" Cottle, was charged with drug possession and was released. She apparently had some marijuana and ecstasy on her. Neither Young Dro nor Mac Boney were charged with any crimes, and they both were released.
And last but not least, the full 9-page long affidavit running down Saturday's events has leaked to the public (no surprise there) and you can download that mofo HERE. I just skimmed through some of the pages in Adobe Reader, but from read I read … SMH. I hate to say it, but T.I.P. might have gotten the best of T.I. Looks like they're BOTH goin down…