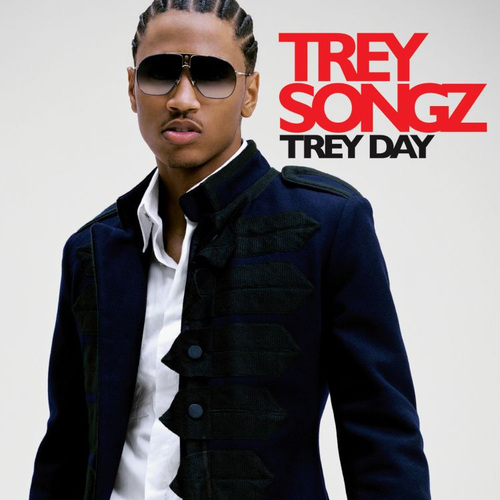 BUY NOW: ATLANTIC | AMAZON | iTUNES
Trey Songz reigns on Trey Day! Equally up to par as his debut album, I Gotta Make It, if not greater! The album starts off with this amazing introduction from Bun B, of UGK, followed by a suit of sonic sounds and vast harmonies; Trey introduces a different side of him prior to I Gotta Make It, a combination of rapping and singing, with songs like "Long Gone Missin'", the smash single "Wonder Woman" (produced by Danja) and, my favorite, "No Clothes On". =D
Now, halfway into the album, it takes a more slow and seductive route with songs like "Sex For Yo Stereo," "Last Time," "Can't Help But Wait," and "Grub On". The album next goes up tempo with "Fly Together," another favorite of mine, featuring Jim Jones. Next is "Store Run," a nice melodic Dre & Vidal production. This song I really like though, "Missin' You," mainly because it's a Stargate production – I knew it, like the back of my hand, you can totally tell from jump! Anyway the album makes its culmination with "Role Play" and the Jimmy Jam & Terry Lewis production "We Should Be".
BOTTOM LINE: Overall the album has a lot of variety compared to I Gotta Make It, I see more growth and uniqueness with harmonies, it's just a real smooth R&B album – it'll be a nice gift for your guy's birthday or whatever. Make sure you get Trey Day in stores October 2nd or you can pre-order the album via the links above! See my album review for J. Holiday's Back Of My Lac after the cut!
Trey Songz » "Can't Help But Wait" » LISTEN » (Full)

Trey Songz feat. Jim Jones » "Fly Together" » LISTEN » (Full)

Trey Songz » "Last Time" » LISTEN » (Full)

Trey Songz » "No Clothes On" » LISTEN » (Full)
BUY NOW: CAPITAL MUSIC GROUP
Now we have new artist J. Holiday and his debut effort Back Of My Lac', this is the definition of real rhythm and blues, similar to Trey, Holiday tries out the whole rapping and singing thing. I was a little caught off guard with "Back Of My Lac'," I wasn't really feeling it at first, but I really got into the lyrics. "Ghetto" is visually groundbreaking and relatively unique with Holiday being an R&B artist. "Thug Commandments" is like an ol' school flow song you thugs can really get into, treat this like a damn ritual, like a street commodity.
Then of course the album goes into "Bed," another great Dream production, I think this is the record that "formally" introduced us to Holiday. "Betcha Never Had," "Fatal" (produced by The Underdogs), "Without You" (produced by Drakchild) and "Fallin'" are all possible standout tracks from the album to me.
BOTTOM LINE: Aside from the recent material I've heard on the internet Holiday completely surprised me! I mean, wow, it's almost elusive. I have nothing to say but expect the unexpected – raw, seductive, sexually explicit material. Back Of My Lac hit stores October 2nd – make sure you go out and support this record – you won't regret it. Trust me. You can also pre-order the album via the linkage above!
J. Holiday » "Suffocate" » LISTEN » (Full)

J. Holiday » "Betcha Never Had" » LISTEN » (Full)

J. Holiday » "Without You" » LISTEN » (Full)

J. Holiday » "Fallin'" » LISTEN » (Full)